No one should be surprised to hear that vapourizers, edibles, and extracts seem to be the hottest trends in the cannabis world. Just look at the various options offered on BuyBCBud.com's site to see that the world of cannabis has evolved from a simple flower too new and exciting ways to enjoy cannabis. I'm not saying that these three options to enjoy cannabis are brand new, I am just pointing out that there seems to be new products, methods, and gadgets that go beyond traditional cannabis ingestion.
That brings us to the original or OG of the cannabis world; the joint. Rolling will forever remain an art form that not all of us are great at. Personally, I have spent decades perfecting my method and have learned one thing throughout the years, there are SOOOOO many different ways to roll weed.
With SOOOOO many different styles and options I have decided to compare only two specific styles for the following reasons; 
There is only so much time in the day, 

Some varieties are more theatrical or comical and take far too much time to construct (I'm looking at you trident joint!)

I have been around 420 friendly people my whole life and these are the two most common options.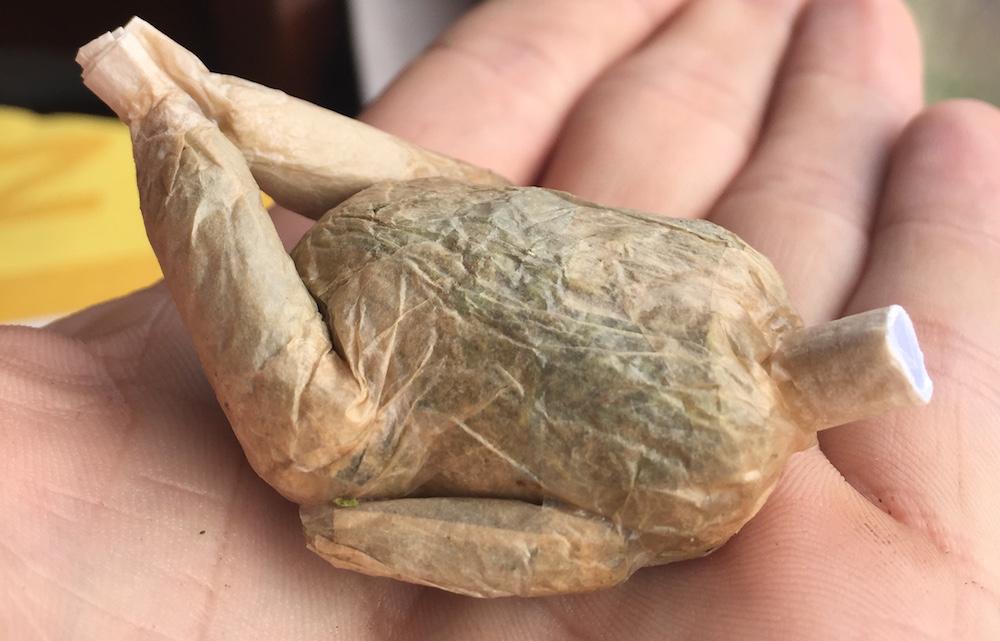 The two styles are the traditional joint versus the traditional blunt and or spliff. For the uninformed the biggest difference between the three are joints and blunts do not contain any tobacco inside them whatsoever BUT spliffs and blunts both incorporate tobacco as opposed to a joint which is purely cannabis. The blunt paper is tobacco leaf and a spliff contains loose tobacco mixed in with the cannabis. For the purpose of this article I am considering a spliff as part of the blunt family.
Here lies the dilemma: among these two options, what is the better way to consume cannabis. Believe it or not but this is a highly controversial topic in the cannabis world. Within this controversy exists many great arguments for and against each option. Throughout my decades of being an enthusiast of all things cannabis, here are some of the arguments that I have heard.
In favour of blunts
You get that extra tobacco buzz (head rush from nicotine)

The blunt tobacco leaf can hold a lot of cannabis leading to a longer or more intense high

The spliff is mixed with tobacco meaning you'll use less cannabis and often leads to more consistent or even burning as you puff away

They look very cool and people like how they look holding one
In favour of joints
Joints can range in size from pinners to blunt size depending on the papers you buy

Tobacco has an aroma that will overpower or alter the cannabis flavour

Tobacco is an added carcinogen and no one needs more of those

Simple is often best
The elephant in the room of this question is tobacco. On the surface a blunt or spliff sound like a supercharged joint that burns more evenly, and who doesn't like the sound of that eh? Well many actually. I have no doubt in my mind that in North America the biggest issue with blunts and spliffs is tobacco. Tobacco has long been advertised as a threat to our health and well being. While some do enjoy the added head buzz from nicotine, this buzz can cause some to become nauseated or dizzy.
Like most things in life it comes down to individual preference. Not everyone will agree that smoking purely cannabis is the best method nor that adding tobacco is the best way to get high. Personally I believe that there is a time and place for blunts and spliffs, and it is not in my everyday routine. My daily go to method is a joint as I like the taste of cannabis and do not enjoy the head rush of tobacco (anyone try Tangerine Dream yet??? It's a delight). Blunts are more of a special occasion like a day off or vacation for me (admittedly I have little practice therefore I suck at rolling perfect crease-less blunts) as they are time consuming to roll and enjoy.
One thing is clear to me: all three can coexist, but the humble joint will always remain the best option for me.